<![endif]-->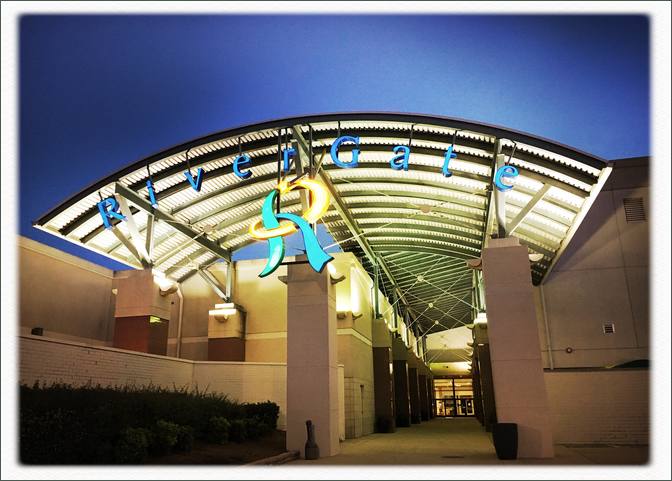 RIVERGATE MALL
1000 Rivergate Pkwy


Goodlettsville

, TN

37072




Click here for a video tour of the property.
Just minutes from Downtown Nashville, RiverGate Mall is a regional shopping destination with over 100 stores and eateries.
Anchored by Dillards, and JC Penney.
Dollar General Corporate Headquarters is located on a neighboring parcel.
Vietnam Veteran's Parkway has over 57,000 vehicles per day and provides immediate access to and from Interstate 65.
Demographics
| | 3 Miles | 5 Miles | 7 Miles |
| --- | --- | --- | --- |
| Population | 41,950 | 103,198 | 169,746 |
| Daytime Population | 21,809 | 41,945 | 73,761 |
| Households | 17,628 | 43,421 | 69,695 |
| Avg HH Income ($) | 77,469 | 82,011 | 90,600 |
| Med HH Income ($) | 57,634 | 59,846 | 64,999 |
| Median Age | 40 | 40 | 40 |
Highlights
For Lease
County: Davidson
Type: Retail
Total SF: 1,164,631
Acres: 78.23
Parking Spaces: 4,918
Year Built: 1971
Year Renovated: 2011

Leasing Agent
Jessica Gelling
Leasing Agent p. 404.926.1526

Evan Staley
Leasing Agent p. 404.926.1533

RIVERGATE MALL
| | |
| --- | --- |
| Available | Coming Available |
Available Spaces
1030
3,960 SF
1035
4,558 SF
1045
4,265 SF
1055
1,430 SF
1060
1,354 SF
1105
2,888 SF
1110
6,869 SF
1125
7,418 SF
1138
7,333 SF
1160
3,502 SF
1200
1,125 SF
1460
550 SF
1603
8,771 SF
1610
3,325 SF
1615
4,637 SF
1620
3,975 SF
1625
3,975 SF
1665
8,000 SF
1690
420 SF
1935
2,010 SF
1960
967 SF
1970
1,200 SF
1990
943 SF
2030
33,460 SF
3001
557 SF
3005
529 SF
3012
431 SF
MAO3
154,539 SF
MAO4
193,564 SF
MAO6
64,658 SF
PK18
1,600 SF
| | | |
| --- | --- | --- |
| 1017 | Sport Seasons | 8,980 SF |
| 1040 | Aeropostale | 3,452 SF |
| 1050 | Rack Room Shoes | 11,342 SF |
| 1100 | City of God | 2,074 SF |
| 1115 | Finish Line | 6,285 SF |
| 1145 | Soho Style | 3,990 SF |
| 1150 | Kids Foot Locker | 2,460 SF |
| 1155 | Pretzel Company Unlimited | 1,000 SF |
| 1165 | Underground By Journeys | 1,300 SF |
| 1170 | Ashcroft & Oak Fine Jewelry | 1,040 SF |
| 1205 | Brow Art 23 | 1,125 SF |
| 1450 | Animal Riders | 1,706 SF |
| 1455 | Lids | 594 SF |
| 1500 | Gloria Jean's Coffees | 750 SF |
| 1505 | Airlusion Candles | 1,300 SF |
| 1509 | Empire Clothing | 5,961 SF |
| 1510 | rue 21 | 7,012 SF |
| 1520 | Champs Sports | 4,800 SF |
| 1527/1535 | Citi Trends | 14,007 SF |
| 1550 | Guitar Center | 11,695 SF |
| 1560 | Walking with Swager/GoodWorks | 4,098 SF |
| 1630 | Claire's | 1,473 SF |
| 1640 | Gold Valley | 791 SF |
| 1650 | King and Queens | 963 SF |
| 1670 | Spoiled | 2,783 SF |
| 1680 | Foot Locker | 4,109 SF |
| 1685 | C & C Shirt Works | 1,025 SF |
| 1700 | Tea & Boba | 496 SF |
| 1705 | Elite Nails & Spa | 698 SF |
| 1710 | The Next Level Games | 5,859 SF |
| 1720 | Kings and Queens Barber & Salon | 1,268 SF |
| 1725 | Next Level Games | 6,028 SF |
| 1730 | Smash N Go Table Tennis | 5,242 SF |
| 1800/1815 | Connection Pointe | 7,441 SF |
| 1822 | City Gear | 4,383 SF |
| 1831 | Sports Fever | 4,357 SF |
| 1905 | Crown Juicer | 954 SF |
| 1910 | Aqua Footcare & Massage Center | 1,858 SF |
| 1915 | Hot Topic | 1,662 SF |
| 1920 | House of Style | 2,038 SF |
| 1925 | Journeys | 1,587 SF |
| 1930 | Universal Imports | 1,755 SF |
| 1940 | Bath & Body Works | 2,241 SF |
| 1945 | Collectors Addition 101 | 2,180 SF |
| 1950 | Spencer's Gifts | 1,809 SF |
| 1955 | Gold and Diamonds | 1,473 SF |
| 1965 | Soccer Plus | 1,457 SF |
| 1975 | True Fashions | 1,893 SF |
| 1980 | Trust Jewelry & Repair | 1,220 SF |
| 3002 | Pyramids Cafe | 505 SF |
| 3003 | One Spunky Spud | 636 SF |
| 3004 | Greasy Fingaz | 473 SF |
| 3006 | Panda Cafe | 891 SF |
| 3008 | Teriyaki Express | 594 SF |
| 3009 | Steak Grill | 530 SF |
| 3010 | Pepe's Mexican Express | 679 SF |
| 3011 | 4 Man's Grab N Go | 463 SF |
| 3013 | Nino's Fashions | 5,550 SF |
| MAO1 | Dillard's | 215,665 SF |
| MAO2 | JCPenney | 183,992 SF |
| PK12 | American Jewelry | 150 SF |
| PK19 | Cell Pro | 150 SF |
| PK20 | Cellairis | 150 SF |
| PK24 | Gold and Diamonds | 150 SF |
RIVERGATE MALL