<![endif]-->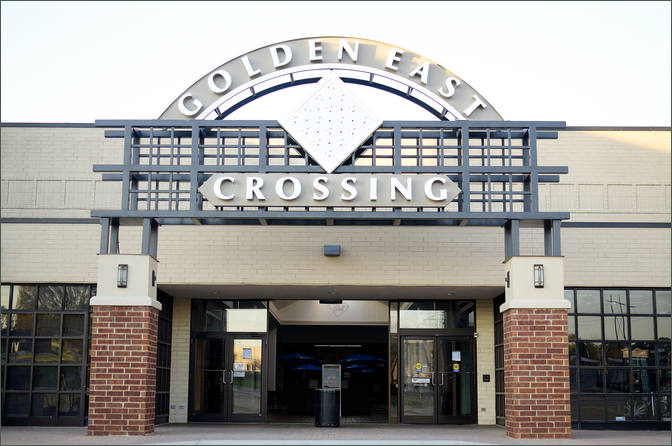 GOLDEN EAST CROSSING
1100 N Wesleyan Blvd


Rocky Mount

, NC

27804



Rocky Mount is located on the I-95 corridor. It has grown in popularity as a central meeting point for recreational opportunities, sporting tournaments, historical tours, and cultural festivals.
Conn's Home Plus, a furniture and specialty home goods retailer, occupying 44,000 sq. ft. of inline space.
Buffalo Wild Wings, an internationally recognized restaurant brand, recently opened a store on the mall ring road.
Sephora, a dominant beauty retail concept, opened a store inside the center of JCPenney in April 2016.
Traffic Counts:
Benvenue Road : 21,300
N Wesleyan Blvd : 31,500
Jeffreys Road : 11,200
Demographics
| | 5 Miles | 10 Miles | 15 Miles |
| --- | --- | --- | --- |
| Population | 57,760 | 89,798 | 122,152 |
| Daytime Population | 32,013 | 44,238 | 53,704 |
| Households | 23,179 | 35,598 | 47,675 |
| Avg HH Income ($) | 58,238 | 62,951 | 63,340 |
Highlights
For Lease
County: Nash
Type: Retail
Total SF: 589,000
Year Built: 1986

Leasing Agent
Sheena Jerman
Leasing Agent p. 252.977.6464 x24

Anchor Leasing
Lance Hagaman
Anchor Leasing p. 404.926.1534

Property Management
Sheena Jerman
p. 252.977.6464 x24

GOLDEN EAST CROSSING
| | |
| --- | --- |
| Available | Coming Available |
Available Spaces
1102
1,919 SF
1104
1,243 SF
1106
2,940 SF
1112
2,606 SF
2008
2,972 SF
3012
4,404 SF
5006
810 SF
5010
962 SF
5028
714 SF
5046
1,148 SF
6006
1,500 SF
6010
6,052 SF
6014
2,885 SF
6024
799 SF
7014
1,290 SF
8010
484 SF
9500
24,113 SF
9544
1,960 SF
9546
750 SF
9560
3,775 SF
9570/9590
4,834 SF
| | | |
| --- | --- | --- |
| 1002 | Bath & Body Works | 2,701 SF |
| 1004 | Finish Line | 4,044 SF |
| 1006 | GO TEAM | 1,233 SF |
| 1010 | New York Gold and Diamonds | 1,035 SF |
| 1012 | Underground By Journeys | 1,085 SF |
| 1016 | Shoe Show | 2,965 SF |
| 1020 | P. J.'s Ladies Wear | 5,085 SF |
| 1022 | Shoe Dept. | 6,740 SF |
| 1030 | Wilson Area Railroad Modelers | 5,993 SF |
| 1032 | Exotic Nails | 1,528 SF |
| 1108 | American Eagle Outfitters | 5,204 SF |
| 2002 | PJ'S Sportswear | 3,606 SF |
| 2010 | Payless ShoeSource | 2,487 SF |
| 2012 | Cynthia's | 2,322 SF |
| 2014 | Snack Shack | 657 SF |
| 2018 | rue 21 | 7,249 SF |
| 2022 | Gold Rush | 1,200 SF |
| 3002 | Capello Hair | 942 SF |
| 3004 | Victoria's Secret | 3,539 SF |
| 3008 | Jimmy Jazz | 5,189 SF |
| 3014 | Hibbett Sports | 7,163 SF |
| 3018 | Footaction USA | 4,361 SF |
| 3022 | Rainbow | 4,970 SF |
| 3038/4002 | Conn's Home Plus | 44,000 SF |
| 3502 | Pretzel Twister | 252 SF |
| 3507 | Jewels Time | 100 SF |
| 5002 | Jewels Time | 832 SF |
| 5004 | Vitamin World | 1,038 SF |
| 5007 | Shadetree Vapes | 843 SF |
| 5008 | Claire's | 1,200 SF |
| 5014 | The Children's Place | 3,838 SF |
| 5018 | Davenport Auto Park | 5,395 SF |
| 5022 | Lids | 729 SF |
| 5024 | Cell Tech | 967 SF |
| 5026 | Great American Cookie Co. | 624 SF |
| 5036 | Authentiks | 3,883 SF |
| 5040 | Kids Foot Locker | 1,752 SF |
| 5042 | Jewelry & Co. | 1,631 SF |
| 5048 | Milan Gold & Diamond Jewelry | 1,420 SF |
| 6002 | First Look 57 | 6,077 SF |
| 6016 | Mama's Meals | 1,704 SF |
| 6018 | Precision Piercing | 605 SF |
| 6022 | Footlocker | 3,109 SF |
| 7001 | Books-A-Million | 17,474 SF |
| 7002 | Nulook Bounce-n-Party | 5,452 SF |
| 7004 | DNN Tax Preparation & Accounting Svcs | 451 SF |
| 7006 | Salsha's Jewels | 579 SF |
| 7008 | Designer Brows | 977 SF |
| 7012 | Boost Mobile | 1,646 SF |
| 7016 | GNC | 1,058 SF |
| 7018 | Lee Nails | 979 SF |
| 8006 | Ruffino's Pizza & Subs | 595 SF |
| 8008 | Stir Fry 88 | 595 SF |
| 8012 | Tokyo Cafe | 873 SF |
| 9002 | JC Penney | 81,729 SF |
| 9101 | Belk | 112,957 SF |
| 9104 | Dunham's Sports | 89,564 SF |
| 9530 | Ross Dress for Less | 30,850 SF |
| 9548 | CenturyLink | 2,592 SF |
GOLDEN EAST CROSSING