<![endif]-->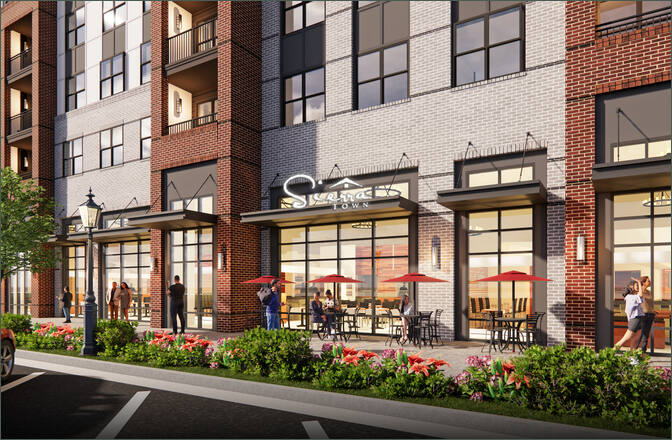 GEORGIA SQUARE MALL
3700 Atlanta Hwy


Athens

, GA

30606



10 minute drive from the University of Georgia, the state's largest and the nation's oldest public university with over 33,000 enrolled students.
Split level enclosed mall featuring 100 stores, shops, restaurants, and year round amenities for guests of all ages.
Over 34,000 vehicles per day on Atlanta Highway, the main frontage road.
Outparcels: 2 Outparcels available for ground lease or build-to-suit.
Site #1 (+/- .96 Acres) and Site #2 (+/- .93 Acres) The Mall is in the process of being redeveloped into a new, mixed-use development, "Viridian." Click here for a video about this upcoming revitalization.
Demographics
| | 5 Miles | 10 Miles | 20 Miles |
| --- | --- | --- | --- |
| Population | 77,420 | 186,841 | 382,633 |
| Daytime Population | 46,098 | 103,207 | 152,159 |
| Households | 31,178 | 72,048 | 141,391 |
| Avg HH Income ($) | 100,455 | 87,429 | 86,937 |
| Med HH Income ($) | 62,901 | 55,108 | 60,474 |
| Median Age | 29 | 29 | 29 |
Highlights
For Lease
County: Clarke
Type: Retail
Total SF: 686,517
Acres: 23.53
Parking Spaces: 4,128
Year Built: 1981
Year Renovated: 2008

Leasing Agent
Evan Staley
Leasing Agent p. 404.926.1533

Specialty Leasing
Monica Hawkins
Specialty Leasing p. 706.543.7908 x239

Property Management
Carlos Gonzalez
p. 404.926.1539

John Liu
p. 706.543.7908 x228

GEORGIA SQUARE MALL
| | |
| --- | --- |
| Available | Coming Available |
Available Spaces
| | | | | | |
| --- | --- | --- | --- | --- | --- |
| 64 | 553 SF | | 64A | 1,987 SF | |
| 66 | 1,300 SF | | 69 | 5,680 SF | |
| 70 | 2,350 SF | | 71 | 1,887 SF | |
| 72 | 1,267 SF | | 85 | 1,779 SF | |
| 86 | 1,559 SF | | 87 | 3,823 SF | |
| 89 | 3,483 SF | | 92 | 1,330 SF | |
| 100 | 1,336 SF | | 104 | 869 SF | |
| 107 | 1,680 SF | | 108 | 873 SF | |
| 109 | 873 SF | | 110 | 7,186 SF | |
| 112 | 3,972 SF | | ANC A | 97,550 SF | |
| F | 10,824 SF | | FC1 | 626 SF | |
| FC2 | 918 SF | | FC5 | 779 SF | |
| KSK04 | 180 SF | | KSK05 | 180 SF | |
| KSK09 | 120 SF | | PK01 | 100 SF | |
| PK02 | 100 SF | | PK03 | 264 SF | |
| | | |
| --- | --- | --- |
| 61 | Hearing Aid Factory Outlet | 1,000 SF |
| 62 | Q's Selfie Palace | 2,271 SF |
| 67 | Athens Anti-Discrimination Movement | 1,303 SF |
| 68 | Menz Care | 3,419 SF |
| 68A | Perfume Place | 1,732 SF |
| 73 | Continental Jewelers | 1,962 SF |
| 74 | Elite Furniture | 8,831 SF |
| 77 | Shoe Dept. Encore | 13,481 SF |
| 82 | GC Computers | 2,134 SF |
| 83 | Nail 1st | 1,145 SF |
| 84 | Journeys | 1,101 SF |
| 88 | Hibbett Sports | 8,269 SF |
| 90 | Gadget | 1,800 SF |
| 91 | Great American Cookie Co. | 752 SF |
| 98 | Kay Jewelers | 1,265 SF |
| 102 | Claire's | 1,270 SF |
| 111 | Pearle Vision | 1,580 SF |
| E | Athens-Clarke County Police | 14,490 SF |
| FC3 | Mandarin Express | 650 SF |
| FC4 | American Deli | 640 SF |
| KSK07 | Twisted Pretzels by JoJo | 180 SF |
| KSK08 | Jo Jo's Gourmet Lemonade | 243 SF |
| PK13 | Cellairis | 120 SF |
GEORGIA SQUARE MALL