<![endif]-->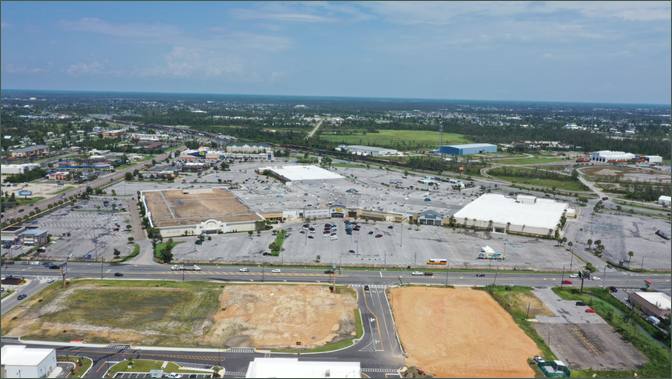 PANAMA CITY MALL
2150 Martin Luther King Jr Blvd


Panama City

, FL

32405



Panama City Mall is anchored by Dillards, JC Penney, and Sears.
Showcasing a grand glass dome and lifelike coastal murals, the center court at Panama City Mall is where events and guest activities are featured throughout the year.
Planet Fitness opened in January 2017 boasting over 18,000 sq. ft.
Attractive lifestyle mix with retail, entertainment, and dining components sure to please locals and tourists alike.
One outparcel available at .510 acres.
Demographics
| | 5 Miles | 10 Miles | 20 Miles |
| --- | --- | --- | --- |
| Population | 87,075 | 140,031 | 169,860 |
| Daytime Population | 58,490 | 81,672 | 96,844 |
| Households | 35,731 | 56,966 | 68,733 |
| Avg HH Income ($) | 61,381 | 62,695 | 62,611 |
Highlights
For Lease
County: Bay
Type: Retail
Total SF: 603,084
Acres: 54.15
Parking Spaces: 3,241
Year Built: 1976
Year Renovated: 1995

Specialty Leasing
Kim Wise
Specialty Leasing p. 850.769.3659 x228

Leasing Agent
Richard Wilson
Leasing Agent p. 404.926.1536

Anchor Leasing
Lance Hagaman
Anchor Leasing p. 404.926.1534

Property Management
Kim Wise
p. 850.769.3659 x228

PANAMA CITY MALL
| | |
| --- | --- |
| Available | Coming Available |
Available Spaces
| | | | | |
| --- | --- | --- | --- | --- |
| 2028 | 2,882 SF | | 2100 | 4,828 SF |
| 2110 | 400 SF | | 2138 | 2,007 SF |
| 2148 | 2,597 SF | | 2152 | 3,395 SF |
| 2156 | 3,506 SF | | 2192 | 868 SF |
| 2200 | 1,837 SF | | 2217 | 922 SF |
| 2222 | 1,327 SF | | 2230 | 616 SF |
| 2242 | 1,979 SF | | 2248 | 2,158 SF |
| 2256 | 2,976 SF | | K04 | 150 SF |
2004
Shoe Dept. Encore
14,232 SF
2030
Storage
2032
Global Arts Society
4,200 SF
2040
Imports & Antiques
6,722 SF
2104
Game Time
4,011 SF
2112
Lingerie
1,095 SF
2114
TimeKeepers
375 SF
2118
Shoe Central
1,344 SF
2120
Bay Lincoln/Bay Hyundai
1,211 SF
2126
Claire's
1,000 SF
2128
Top Fashion Women
3,002 SF
2130
Bath & Body Works
3,029 SF
2134
Victoria's Secret
8,272 SF
2144
Hibbett Sports
4,894 SF
2146
Vision Works
4,301 SF
2154
Jay Wade Cutz
2,692 SF
2158
GNC Live Well
1,772 SF
2164
Citi Trends
8,088 SF
2166
Top Fashion Men
4,086 SF
2170
Milan Jewelers
1,114 SF
2172
C-Line Apparel
2,000 SF
2174
Avanti
2,436 SF
2178
Jungle Jump Bouncehouse & Balloons
7,301 SF
2180
Finish Line
5,288 SF
2184
Victorian Angels Studio
1,562 SF
2188
Great American Cookie Co.
940 SF
2190
Brow Art 23
940 SF
2194
Lids
451 SF
2196
Florida Small Business Development Center at UWF
2,047 SF
2202
Aeropostale
2,804 SF
2204
Mineral Beauty
900 SF
2206
Jimmy Jazz
3,443 SF
2208
Kay Jewelers
1,751 SF
2214
MasterCuts
919 SF
2215
Touch & Glow
664 SF
2216
Ocean Spa
712 SF
2218
VIP Cinemas
15,091 SF
2224
Elevation Salon
1,083 SF
2226
T-Mobile
1,472 SF
2227
Hana Japan
637 SF
2228
Iron Wok
616 SF
2232
Backyard Grill & More
613 SF
2234
Taste of the World
645 SF
2236
Siam Express
692 SF
2238
Chick-Fil-A
905 SF
2239
Bakery Fresh
313 SF
2240
Auntie Anne's
906 SF
2246
Spencer's Gifts
2,400 SF
2250
FYE
8,264 SF
2254
American Eagle Outfitters
4,547 SF
2258
Buckle
4,732 SF
2266
rue 21 Etc!
4,389 SF
2270
Journeys
1,514 SF
2272
GameStop
1,068 SF
2274
Cellular Solutions
675 SF
2276
Sunglass World
598 SF
2278
Golden Touch Massage
837 SF
2280
Pink & White Nail Spa
1,415 SF
2282
The Corner Barber Shop
861 SF
2284
Planet Fitness
18,013 SF
9801
Sears
131,942 SF
9802
JC Penney
85,097 SF
9803
Dillard's
140,120 SF
BLDGE
Bed Bath & Beyond
23,000 SF
K01
Vape
150 SF
K02
Piercing Pagoda
150 SF
K06
Jacob's Juice
150 SF
PK07
Super Bungee Jump
192 SF
PK10
Cellairis
150 SF
PANAMA CITY MALL